Designing Hedgerows and Meadows for At-Risk Pollinators in the Northeast
The McKeon Farm is a 200-year-old, 42-acre, town-owned open space in Ridgefield, The McKeon Farm is a 200-year-old, 42-acre town-owned open space in Ridgefield, Connecticut. For the last four years, the Pollinator Pathway leaders have been collaborating with Landscape Interactions, an organization specializing in designing landscapes that build biodiversity and strengthen ecological resilience, to support the food sources and habitats of at-risk bee, butterfly, and moth species. In 2020, after observing declines in species like the rare golden northern bumble bee (B. fervidus), the two organizations moved forward in designing and developing a pollinator garden in hopes of transforming McKeon Farm into a biodiversity hotspot for at-risk and declining pollinator species in the western Connecticut region. While some unavoidable setbacks have slowed progress, through collaboration, patience, and persistence, the project moved toward even greater success, creating a space for pollinators and citizen-scientists alike. Read more.
---
Connecting in the H2H region
At the June 27 Community and Conservation Connections Forum at Pace University, nearly 60 participants heard from a panel of local leaders building connections and trust with individuals and communities across the region. Throughout the three-hour event, a panel of community and conservation leaders discussed stories of their challenges and solutions to connect and engage communities with the natural world. H2H Coordinator and Highstead Conservationist, Katie Blake welcomed representatives of 30+ organizations in attendance and moderated a panel discussion of local leaders making connections between conservation and communities across the region.
Louise Washer, President, of Norwalk River Watershed Association, Pollinator Pathway Network board member, and H2H RCP Steering Committee member; and Lisa Shanahan, Norwalk Land Trust President, Norwalk Common Councilwoman, and H2H RCP Steering Committee member, discussed connecting the community in urban habitat restoration. They explained their multi-year project identifying a formerly redlined area of Norwalk for habitat restoration and their work leading volunteers to remove invasives and plant native trees, shrubs, and perennials to connect residents to green space and wildlife.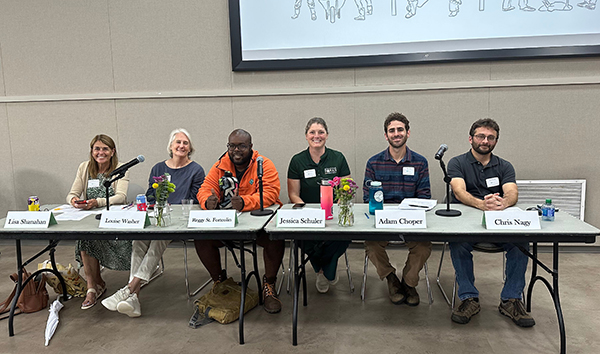 Reggy St. Fortcolin, Conservation Outreach Manager for Aspetuck Land Trust, discussed how H2H RCP conservation organizations are connecting with communities, and connecting communities to wildlife and nature.
Adam Choper, Farm Director for Hilltop Hanover Farm, Westchester County Dept. of Parks, Recreation, and Conservation; and Jessica Schuler, Program Coordinator for Natural Resources, Westchester County Dept. of Parks, Recreation, and Conservation, and H2H RCP Steering Committee member, discussed how native plants support agriculture and ecological restoration.
Chris Nagy, Research and Education Director, Mianus River Gorge shared how to connect wildlife corridors in partnership with municipalities.
You can review the slides shared by the speakers here.
The following partners provided tables offering information, programs, and resources related to initiatives they are leading aimed at connecting habitats, people to habitats, and people to each other: Connecticut Land Conservation Council, Pollinator Pathway National Organization, Aspetuck Land Trust's Green Corridor, Northern Westchester History/Nature Interconnected trail system, Connecticut Audubon Society, Follow the Forest Initiative, Hudson River Estuary Program, and Harlem Valley Appalachian Trail Community.
Whether or not you attended the forum, please share your thoughts about what connections you're interested in exploring in our region.
---
WestCOG Resources Could Help H2H Partners Reach Goals
Throughout the years, the Western Connecticut Council of Governments (WestCOG) has developed various resources for the member municipalities they serve throughout the region. As a regional coordination association, the council works to promote cooperation, initiate services, and implement programs for its member districts, and it offers a wide range of tools for their benefit and support. Many of the resources composed by the council are accessible for H2H partners as well and may be useful for land conservation, natural resource management, and habitat preservation and protection. Read more.
---
May All Partner Meeting- Great to See You!
After three years of Zoom All Partner Meetings, nearly 50 partners gathered at the Greenwich Audubon Center on May 9 for our first in-person meeting in a long time. It was wonderful to see folks connecting and catching up! Our guest speakers, Julia Rogers (Housatonic Valley Association) and Mary Ellen Lemay, and Adam Goodman (Aspetuck Land Trust), gave a talk entitled "Community-Centered Corridor Initiatives in CT." They shared how The Follow the Forest (FtF) and Green Corridor Initiatives (GCI) tell a story centered on the relationship between humans and wildlife while empowering individuals to contribute directly to their connectivity efforts. The second half of the meeting, partners met in small self-organized discussion groups centered on topics such as  GIS mapping support, connecting communities to the GCI and FtF projects, and a need for an invasive plant council in CT. Stay tuned for our fall 2023 All Partner Meeting!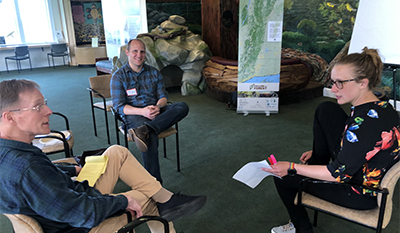 ---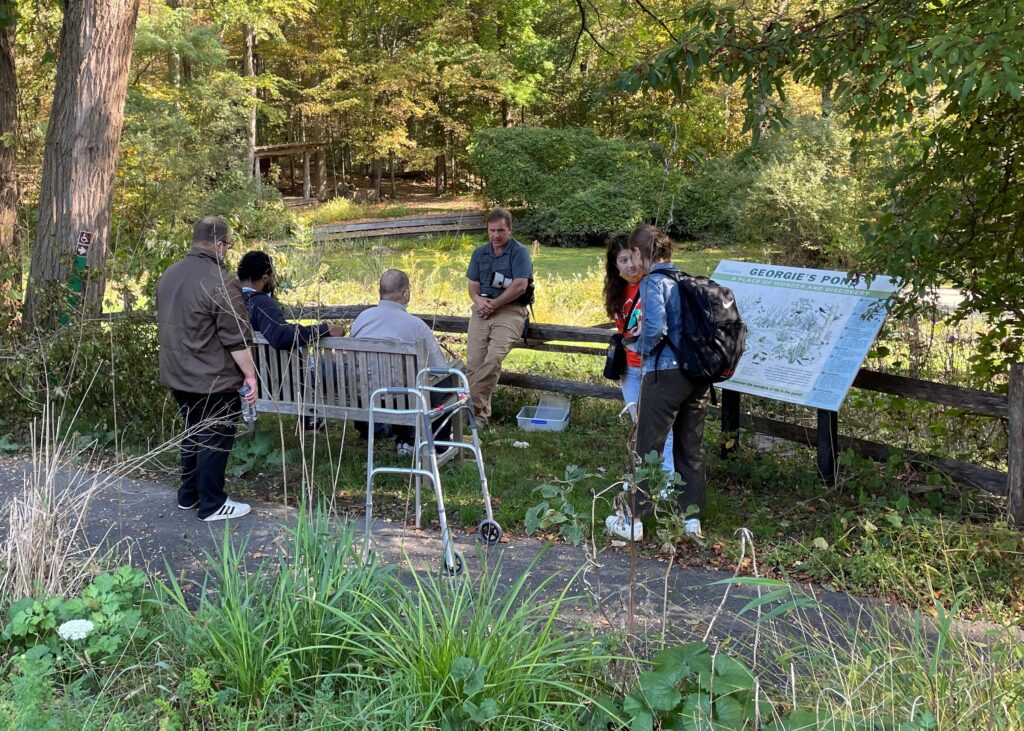 Greenwich Audubon Working to Provide Access for All
With inclusivity and accessibility at the forefront of their work, Greenwich Audubon Center has developed a series of programs, activities, and partnerships to further their work in making Connecticut's' natural environment a more accommodating and inclusive space. Starting in 2018, the Center launched their partnership with "Accessibility For All", a network of organizations in Connecticut committed to providing equitable experiences for guests with intellectual, sensory, mental, and physical challenges. Since then, they've worked to make their space accommodating and supportive for those from underrepresented communities, including those with various physical, mental, and sensory needs and challenges, individuals in the LGBTQIA+ community, senior citizens, and more. Their wheelchair accessible trails, quiet spaces, "LGBT" bird walks, and more are all humble steps the Center is taking to respect, reflect, include, and embrace human diversity, and provide opportunities for all people to experience and engage with nature. Read more.
---

In-Person All Partner Meeting

May 9 @ 4:00-6:00 p.m. – Register Here
We are very excited to be hosting our next All Partner meeting in-person! The meeting will take place on May 9 from 4:00 – 6:00 p.m. at Greenwich Audubon Center. Please refer here for instructions on how to get to the Center.
Join us for a time to network, share updates, and participate in breakout discussions. We'll be welcoming speakers Julia Rogers (Housatonic Valley Association) and Mary Ellen Lemay and Adam Goodman (Aspetuck Land Trust). They will present a shortened version of their "Community-Centered Corridor Initiatives in CT" presentation that was shared at the Connecticut Land Conservation Conference last month. Their talk will focus on their respective connectivity initiatives: the Green Corridor and Follow the Forest and will include information about landowner engagement, community science and education efforts, and approaches to corridor conservation.
We look forward to seeing you there! Pre-registration is required.
---
Groups Partner to Maximize Wildlife Corridors

by Autumn Carson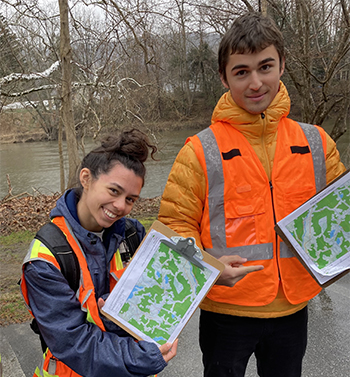 One of the main aspects partners of H2H love about the collaborative is the opportunity to network and exchange ideas.  At a recent All Partners' Meeting, five partners presented as part of the feature, "Projects Connecting Our Regional Landscape." Two of those partners, Aspetuck Land Trust and the Housatonic Valley Association, ran with some synergy between their regional initiatives, and later this month they will be presenting together at the 2023 Connecticut Land Conservation Conference. Both initiatives share similar goals to tell a story centered on the relationship between humans and wildlife and to empower individuals to contribute directly to their connectivity efforts, so the groups decided a collaborative presentation on Aspetuck's Green Corridor Initiative and HVA's Follow the Forest Initiative would benefit participants. During their presentation, they'll discuss approaches to corridor conservation, from land protection to stewardship, and their landowner engagement, community science, and education efforts. Participants will also learn how they can implement these strategies in their regions and communities. Read More.
---
Reducing Emissions at Bedford 2030's Clean Ride & Drive Event
by Allison Hague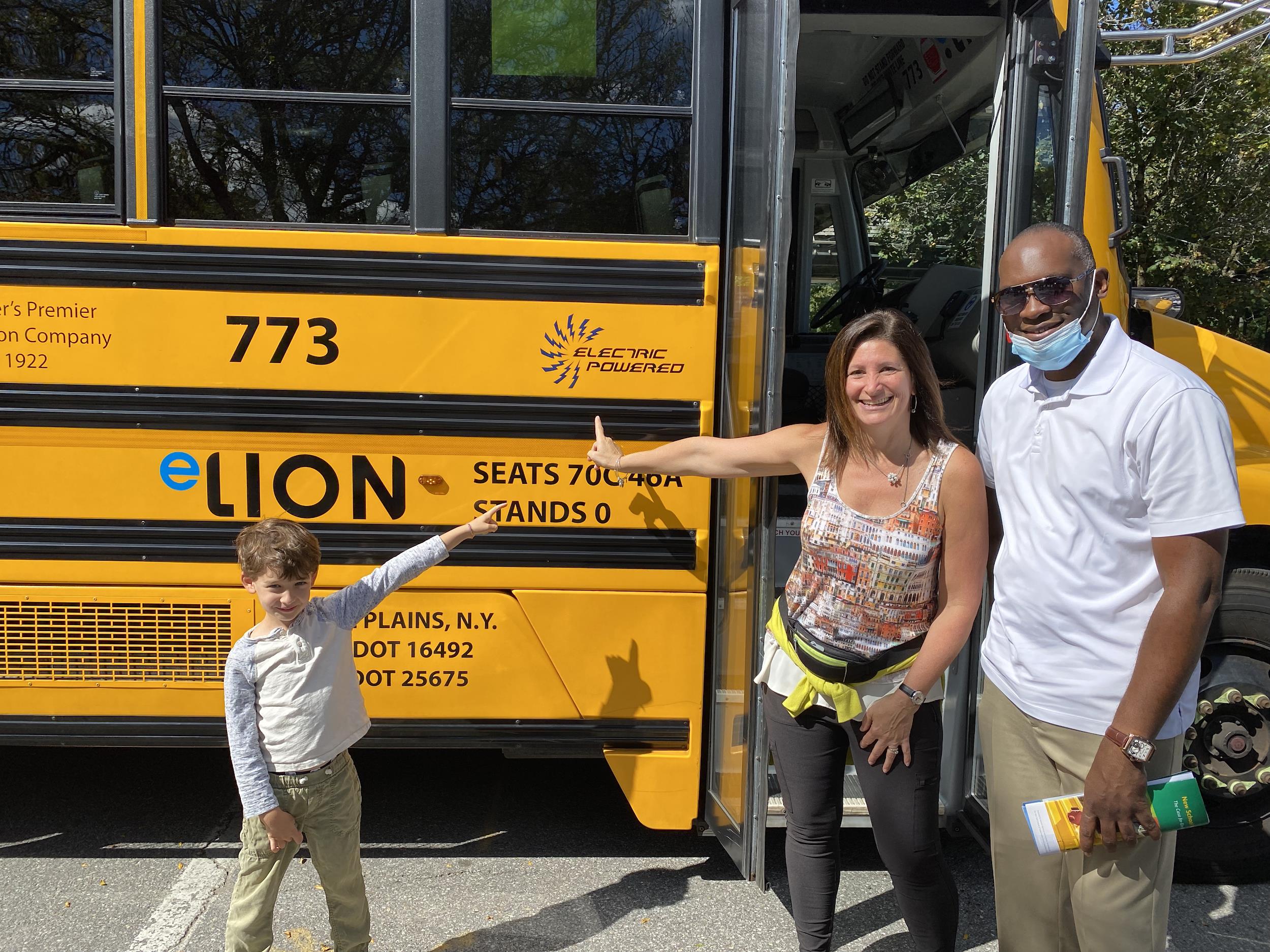 In October of 2022, Bedford 2030, a non-profit organization committed to reducing greenhouse gas emissions by 80% by the year 2030 in Bedford, NY, hosted their second annual Clean Ride and Drive Expo. The event showcased ways for the community to reduce their environmental impact from transportation, resulting in cleaner, healthier air and ultimately advancing Bedford's greenhouse gas reduction goals.
During the expo, participants were invited to step inside and explore some of the newest electric vehicles (EVs), in an effort to see first-hand how practical, accessible, and beneficial fossil fuel-free transportation can be for communities. The event also offered opportunities for attendees to donate used bicycles for repair, learn from local EV owners, and recycle old, polluting, gas-powered lawn equipment in exchange for coupons toward new electric equipment. Planning is currently underway for Clean Ride and Drive 2023.
The Bedford 2030 Clean Ride and Drive is an annual showcase held during National Electric Drive Week. Hosted by Bedford 2030, a non-profit organization committed to reducing greenhouse gas emissions 80% by the year 2030 in Bedford, NY, this free Westchester County community event invites participants to step inside the newest electric vehicles (EVs), including a fully electric school bus and an all-electric Bee-Line bus serving Westchester community members. Bedford 2030 also partnered with local vendors to accept used bicycles for repair and exchange gas-powered lawn equipment for $100 coupons toward new electric equipment. Read more.
---
Conservation and Community Mapping Meetings
Join fellow partners at two upcoming meetings as H2H considers our shared conservation and community goals at the regional scale and explores how mapping can help inform our process. Please bring your ideas and knowledge about conservation and/or community corridor and connecting projects you're interested in and/or part of.
---
Hudson to Housatonic VIRTUAL All-Partner Meeting – Thursday, September 8, 4:00 to 6:00 pm
Watch Tony Hiss's Presentation – "Reconnecting a Planet and a Region"
Featured Speaker: Tony Hiss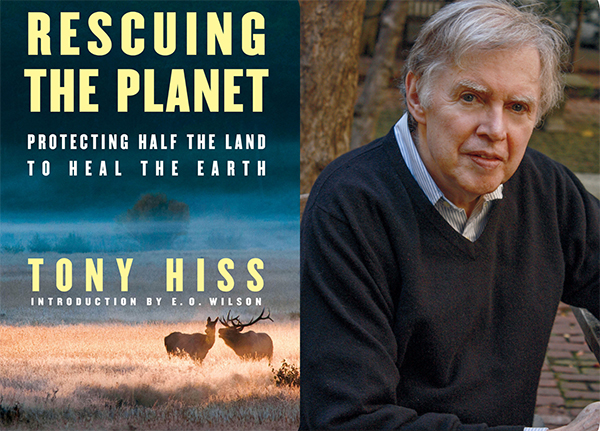 Tony Hiss is the author of 15 books. He was a staff writer for The New Yorker for 30 years, a visiting scholar at New York University for 25 years, and one rainy afternoon helped brainstorm the idea for the Hudson to Housatonic Regional Conservation Partnership, a group he greatly admires.
Title of his talk: "Reconnecting a Planet and a Region"
It's time to accelerate everything we do to protect nature and what it does for us. Just as urgent as the climate crisis, though less talked about, is the biodiversity crisis: A million species of plants and animals are threatened with extinction, many only a few decades from now, and biodiversity is the basis for all life on earth. Fortunately, there's a daring solution, sometimes called "Half-Earth" or "50×50" — the idea of protecting half the planet by 2050. Drawing on his new book, "Rescuing the Planet," Tony Hiss will talk about conservation's bold new goal, the Half Earthers already hard at work across North America, and what we can all do, here in the H2H Region or whatever our location, to keep life alive.
Tony's book:  Rescuing the Planet: Protecting Half the Land to Heal the Earth (view the trailer)
It can be ordered online from Amazon or through indiebound.org. As an added bonus: If anyone from the H2H Partnership — or from anywhere within the H2H Region — orders the book in September and emails Katie Blake their mailing address, Tony Hiss will immediately send them a personally inscribed bookplate.
About the book:
Hailed as "at once sobering and joyful" and a "keystone resource," Tony Hiss's new book, "Rescuing the Planet: Protecting Half the Land to Heal the Earth," now in paperback, is essential reading for understanding the looming biodiversity crisis and how by working together we can still stave off a mass extinction of plants and animals and keep life alive. 
---
Newtown Forest Association Reflects on Successful First Year with Executive Director
In September of 2021, the
Newtown Forest Association (NFA) announced that they had hired their first-ever Executive Director, Trent McCann. For nearly 100 years prior, Connecticut's oldest land trust was an exclusively volunteer-run organization, overseeing over 1,400 acres of preserved land. Though hiring an executive director was considered for years, the timing and finances finally aligned and Trent, who has a bachelor's degree in Sustainability Science from Furman University and a master's in Environmental Education from New York University, was hired. Both Bob Eckenrode, board member, and former NFA president, and Guy Peterson, current president, and treasurer, shared that this was definitely a need for the land trust in order to meet their mission and continue to grow. "It was clear to me and the rest of our board we needed help in order to grow and keep our land trust on the right track," noted Bob. Guy specifically stated that hiring an executive director "was critical to evolve the NFA to its next stage of maturity" and would "help ensure the continuity of our mission and better manage board members and volunteers." Read more.
---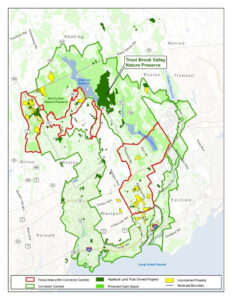 Green Corridor Initiative Underscores Value of Conservation Partnerships
Aspetuck Land Trust (ALT) has been working hard over the past few years to achieve a vision of a greener, more sustainable world by connecting thousands of acres of land in Southern Connecticut through their Green Corridor Initiative. Through recent land acquisitions and a curated method for success, ALT has been moving step-by-step towards its goal of a 40,000-acre Green Corridor that safeguards land, wildlife, and water resources, and lessens the climate crisis. This Corridor extends through Fairfield, Westport, Weston, Easton, Wilton, and Redding, preserving undeveloped lands and engaging local residents to build biodiversity in their own homes.
In 2021, ALT acquired an additional 95 acres for the Green Corridor, the majority being from an 85-acre parcel of land from the Fromson Strassler property in Weston. This particular area is a crucial part of the plan to build a 705-acre forest block on the Weston-Wilton border, the "last frontier" of open space in the area. Criteria for geolocating land for the Corridor include preserving riparian corridors, linking existing properties and protected space, connecting habitats of rare species or those of concern, mitigating habitat fragmentation, and protecting farmland soils. Land protection is one of the main components of building the Corridor, and so far ALT has identified 42 properties for protection, totaling 805 acres, in addition to the 705-acre forest reserve. Read more.
---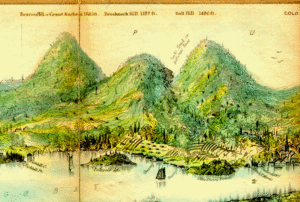 In June of 2020, the Hudson Highlands Land Trust (HHLT) released a statement on racial inequity that conveyed their dedication to addressing the historic disparities in conservation work by committing to inclusive community outreach and events, diverse hiring practices, safe and equitable access to nature, clean water for all our communities, and amplifying stories from communities of color. Now, almost two years later, they have taken steps to act on this commitment through their Relearning Highlands History series and related initiatives. One of their first steps was producing a series of articles, the first of which addressed the history of the land in the region they work and the fight that Chief Ninham and the Wappinger people endured. The series now includes 10 additional stories about the region's history and the work HHLT is taking to reckon with this history. In order to produce the series, they have collaborated with local and regional community members, scholars, researchers, and writers, and are learning alongside their own audiences on topics like tree inequity, stonewalls history, and justice in agriculture. Read more.
---
In just under three years, Pollinator Pathway has reached about 400,000 observations on their iNaturalist project, a digital platform and social network for sharing and identifying plant and animal sightings. The project began in 2019 in an effort to engage more people in community science and gather real-time information about local pollinators. The very first Pollinator BioBlitz was organized in June of the same year, in which people on the pathway were invited to download the app and photograph pollinators for the whole month. A June event has been held each year since and use of the app especially blossomed when everyone was home during the pandemic. Now over 40,000 users of the platform have recorded their pollinator and pollinating plant observations, and the data is both scientifically-verified and publicly available for use in a range of applications.
Since April is native plant month, it's a great time to find, plant, and promote native plant species in and around your neighborhood. If you're interested in this type of community science and would like to get involved in Pollinator Pathway's iNaturalist project, click here to read how to do it.
---
Mianus River Gorge publishes 15-year study on forest regeneration and deer management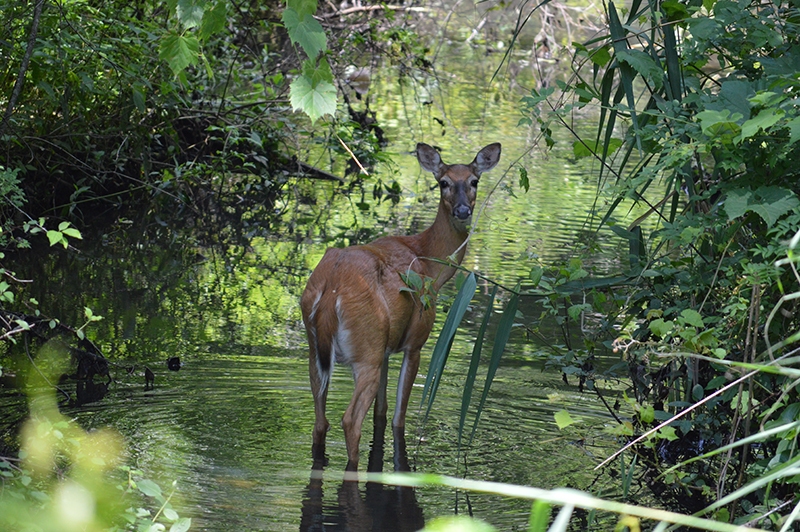 At the start of this year, researchers from Mianus River Gorge, an H2H partner, non-profit nature preserve, and conservation group, published a study regarding a 15-year deer management program and its effects on forest regeneration in a suburban region of southern New York.
The goal of the project was to monitor the impacts of deer browse on forest regeneration, as an overabundance of deer has been shown to have detrimental effects on the ability of forest plants to regrow. A management program was thus implemented in 2004 that allowed recreational archery-based hunting, and simultaneously established 22 vegetation plots that were monitored every three to five years. Researchers also tracked white-tailed deer numbers with camera traps and used these three datasets – hunting, deer numbers, and vegetation surveys – to determine whether deer numbers were reduced and whether this impacted forest regeneration. Read more.
---
Nearly 60 H2H partners gathered virtually for a 2022 kick-off All Partner Meeting on January 12. Together they shared their hopes for how they'd like to connect with each other this year, depicted in the word cloud below. We welcomed Ed Faison, Senior Ecologist at Highstead, who presented on "Lessons from long-term forest monitoring: forest growth, invasive species, and deer browsing." We also heard from the Connecticut Audubon Society, Bedford Conservation Board, and the Housatonic Valley Association about collaborative project opportunities in the region. If you are interested in learning more about these projects or H2H, please reach out to Coordinator Katie Blake, kblake@highstead.net. You can view the recording for the January 12 meeting here.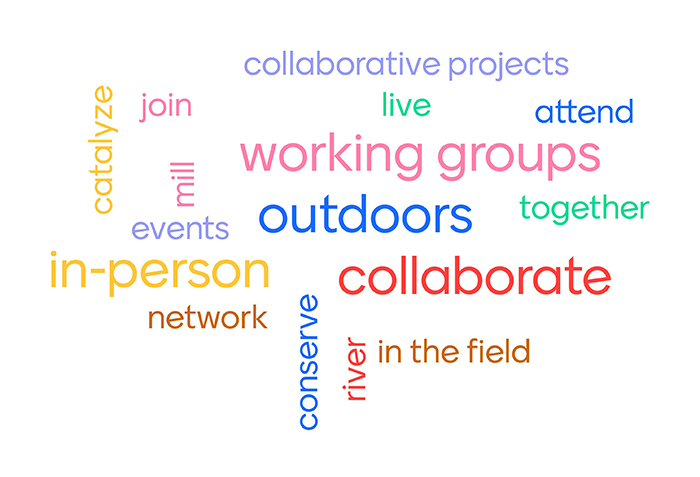 ---
The next All Partners is scheduled for Wednesday, January 12 from 4-5:30 pm. Our draft agenda is below. You can register for the meeting here.
Collaborative Project Pitch
At this meeting, we'll have an open forum to hear from each other on collaborative conservation projects you'd like to realize in the region. Do you have an idea or a vision for a conservation and/or outreach project that could use some support? Are you looking to broaden the scope of the project? Do you need new partners? Or are you interested in a funding source out of your reach? Please take a few minutes to fill out this "Collaborative Project Pitch Form" by January 10. I'll review the pitch and follow up with you on details for making your pitch at the meeting.
Draft All Partner Meeting Agenda:
4:00-4:20 pm- Intros and H2H and Working Group News & Updates
4:20-5:00 pm- Presentation and Q & A with Ed Faison, Senior Ecologist at Highstead- "Lessons from long-term forest monitoring: forest growth, invasive species, and deer browsing."
5:00-5:30 pm- Open forum- Partners get 5 minutes to present/pitch an idea for conservation and/or outreach project that is regional in scale and would benefit from greater H2H support/involvement
Hope to see you there!
---
We are very glad to be hosting our first in-person All Partner Meeting this year! The meeting will take place on October 14th from 4:00 – 6:00 pm at the Green Chimneys pavilion in Brewster, NY, rain or shine. Please refer here for instructions on how to get to Green Chimney's Brewster campus.
To ensure the safety of all participants, this event will be limited to attendees who have been vaccinated. Also, due to the ongoing pandemic, we will not be serving food or having a potluck but please feel free to bring your own snack/drink. Pre-registration is required and the event will be outdoors. Please register for the event here.
Our agenda will include time for networking and reconnecting after a long time of being virtual, including an opportunity for an autumn walk around the boardwalk. We hope to see you there!

---
October 21-24
The NYS Association of Conservation Commissions, along with the NYS-DEC and Westchester County has organized a free, virtual, statewide Conference on the Environment. Several H2H Partner groups will also participate as presenters, panelists, and moderators. The conference will run from Thursday, October 21st through Sunday, October 24th.
The conference sessions will cover four themes: Environmental Justice, Land & Water Issues, Greening Our Energy, and Waste–with workshops emphasizing action items that participants can put to use right away. Featured speakers will include experts and activists from around New York, including NYS DEC Commissioner Basil Seggos.  A new, interactive virtual platform called Gathertown will enable both structured and spontaneous interactions among participants.
The Conference will also include a virtual exhibition area where non-profits and green businesses can share information and interact via video chat. H2H will have a virtual "table" in the exhibition area.
For more information, please visit  https://www.nysacc.net/.
---
Pollinator Pathway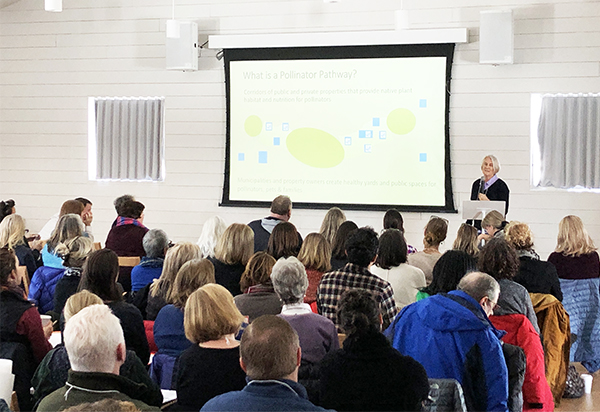 March 2019
In early March, over 90 community members from the H2H region participated in a Pollinator Pathway All-Town Meeting at Grace Farms in New Canaan, CT. Coordinated by the Pollinator Pathway Steering Committee and H2H, the event featured a talk by Dr. Kimberly Stoner of the CT Agricultural Experiment Station which focused on the science of pollinators and their habitat needs. Exhibitors provided an opportunity for people to learn how to map out Pollinator Pathways in their communities and how to set up a page representing their town on the Pollinator Pathway website, among an array of resources for improving habitat for pollinators and understanding the impact of pesticides. More than two dozen towns in the H2H landscape have joined the Pollinator Pathway program with new towns signing on nearly each week, with organizers in each town adapting the program to their community. The Pollinator Pathway emerged from landowner engagement in activities during the early days of the Hudson to Housatonic (H2H) Regional Conservation Partnership, boosted by a grant from the U.S. Forest Service, Northeastern Area State and Private Forestry program. Read the press release here!
---
All Partner Meeting Features Native Gardening Initiative
December 2018
Over 40 members of the Hudson to Housatonic Regional Conservation Partnership (H2H) gathered at Pace University on December 12 for the final All-Partner meeting of 2018. Guest Speaker Kate Brandes, Director of the Landscaping for Communities and Wildlife Program at the Lehigh Gap Nature Center, shared lessons learned from a five-year community engagement initiative centered around the installation of 40 native plant gardens in public spaces in Pennsylvania's Lehigh Valley. Brandes and her partners used these display plantings in prominent locations such as schools, libraries, and businesses to familiarize community members with the aesthetic of native gardens and provide beautiful, approachable models for residential landscaping that supports local ecosystems. The Lehigh Valley case study offered a source of inspiration and comparison with the grassroots Pollinator Pathway outreach underway in the H2H landscape. The meeting continued with working group presentations, breakout discussions on key challenges, and the opportunity for year-end reflection.
---
H2H Member Receives National Award for All-Volunteer Contributions to Land Conservation
October 2018
The Newtown Forest Association, a founding member of H2H, received the National Land Trust Excellence Award from the Land Trust Alliance at Rally 2018: The National Land Conservation Conference, held this year in Pittsburgh, Pennsylvania. The award honors an all-volunteer land trust that has demonstrated outstanding achievement within its community.
"I am proud to say that the Newtown Forest Association is fortunate to actually have a piece of wild, open space in nearly everyone's neighborhood in our community. Our all-volunteer board takes pride in our conservation work and view this as an important lesson to be shared in working together to make these goals a reality," said Bob Eckenrode, NFA President, in his acceptance remarks at the Rally. Eckenrode cited NFA's history of collaborating across organizations and boundaries, first through the Fairfield County Regional Conservation Partnership, and today through H2H, as a key feature of their approach to landscape conservation.
In bestowing the award, the LTA highlighted "the steadfast dedication of the land trust's board and other volunteers to preserving forests, agricultural lands, nature preserves, watersheds and other open-space lands is a testament to their contribution to the land trust movement."
LTA video highlights the value of NFA's land conservation work to the Newtown community and region
---
December 2017
Members of the Hudson to Housatonic Regional Conservation Partnership convened at Pace University for an All-Partner Meeting on December 6th featuring guest speaker Jonathan F.P. Rose, a renowned urban planner, real estate developer, and author. Rose delivered a rousing call to "equalize the landscape of opportunity for all" through planning and design that attends to community needs such as affordable housing, education, healthcare, and open space.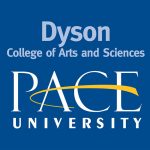 A big thank you to Pace University for hosting this event for community members to discuss regional conservation planning efforts! The presentation was followed by working group updates and a review of draft maps showing conservation priorities in urban, suburban, and rural areas prepared in support of H2H's Strategic Conservation Plan.
---
Media Highlights
May 2018 – Aspetuck Land Trust: WPKN Community Radio Interviews David Brandt about local land trust activities

May 2018 – Aspetuck Land Trust: Connoisseur Media interviews Executive Director David Brant (click ahead to 41:15 to hear the interview).
November 2017 – Aspetuck Land Trust purchases 38 acres in Weston
January 2016 – H2H Becomes Regional Conservation Partnership 
September 2016 – Hudson to Housatonic (H2H) Landowners Protect Land with Conservation Easement
October 2014 – Hudson to Housatonic Initiative Helps Landowners Conserve Water Supplies & Wildlife Habitat