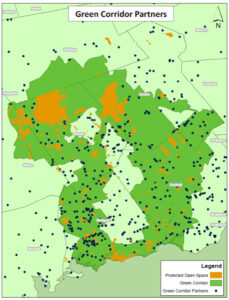 The other component in the Green Corridor development is land stewardship, which sees local homeowners as a critical part of protecting and conserving the region's land. Over 1000 households have signed the Green Corridor Pledge, promising to reduce the size of their lawns by planting native species and reducing their use of pesticides. The entire partnership can be viewed in this interactive map, and ALT even created a helpful video on ways in which you can help on your own land by improving biodiversity in your backyard. By 2024, Green Corridor is looking to connect 3,000 partners, and the successes of this project are due to a three-fold approach that Mary Ellen Lemay, Director of Landowner Engagement for ALT, describes as "Learn, See, Do." "Learn" involves educational programs like the Lunch and Learn Webinar Series, Tallamy Tidbits series, and "Did You Know?" fun facts that are sent to ALT's members and a broader regional audience of 10,000 people. ALT encourages people to "See" what a native garden looks like by featuring their Native Plant Demonstration Gardens in each one of the Aspetuck towns. Finally, "Do" is the action step for improving biodiversity in backyards, through events like the Native Plant Sale, offered twice a year.
The next vision for Green Corridor is to expand into Monroe and bring it to the urban environment in Bridgeport. David Brant, Executive Director, notes that "Green Corridor is a direct outgrowth of our participation in the H2H RCP to create a more connected landscape – that is why land protection and engaging homeowners in biodiversity-promoting stewardship activities are the two thrusts of the Green Corridor. Homeowners are the connective tissue between our protected open spaces."
To learn more about Green Corridor, you can check out their story map or their video on the Initiative, and take the pledge to become a partner here. Special thanks to David Brant and Mary Ellen Lemay for sharing this information with us!