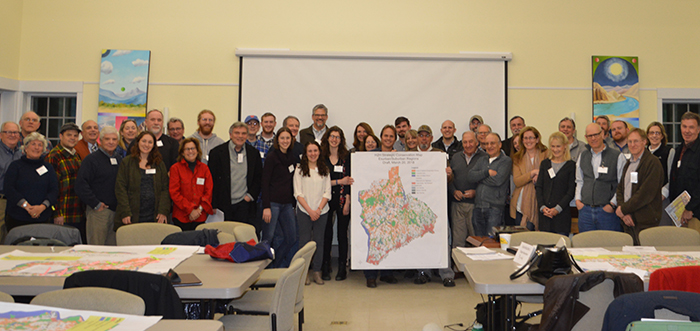 Steering Committee
Tim Abbott, Housatonic Valley Association
Elyse Arnow, Pound Ridge
David Brant, Aspetuck Land Trust
Rod Christie, Mianus River Gorge
Bob Eckenrode, Newtown Forest Association
David Kvinge, Westchester County
Karalyn Lamb, Native Plant Center
Mary Ellen Lemay, H2H Facilitator
Kristen O'Hara, Westchester Land Trust, H2H Co-Coordinator
Hallie Schwab, Highstead, H2H Co-Coordinator
Advisors
Bill Labich, Highstead
Kara Whelan, Westchester Land Trust
H2H Partner Organizations
New England: Aquarion Water Company, Aspetuck Land Trust, Bethel Land Trust, Brookfield Open Space Legacy, Inc., CT-DEEP, Fairfield County Regional Conservation Partnership, Greenwich Audubon, Greenwich Land Trust, Housatonic Valley Association, Highstead, Redding Land Trust, Newtown Forest Association, Norwalk River Watershed Assoc., Ridgefield Conservation Commission, Ridgefield Land Conservancy, Wilton Land Conservation Trust, Yale University, Stamford Land Conservation Trust.
New York: Bedford Audubon Society, Friends of the Great Swamp, Mianus River Gorge, New York State Department of Environmental Conservation, Native Plants Center, North Salem Conservation Advisory Council, North Salem Open Land Foundation, Oblong Land Conservancy, Pound Ridge Land Conservancy, Putnam County Land Trust, Saw Mill River Audubon, Somers Land Trust, Teatown Lake Reservation, The Invasives Project – Pound Ridge, Yorktown Advisory Committee on Open Space, Yorktown Land Trust, Watershed Agricultural Council, Westchester County, Westchester Land Trust.
Special Thanks
H2H partners have coordinated dozens of outreach events throughout our service area.  In total, these events armed landowners with practical resources to better steward their land and understand their conservation options.  These events would not have been possible without the sizable in-kind support of the following conservation professionals:
Diane Blais
USDA – Natural Resources Conservation Service
Carol Capobianco
Native Plant Center
Kevin Carter
Teatown Lake Reservation
Purnima Chawla
Center for Non-Profit Strategies
Peter Farina
Salient Science & Technology, LLC
Corrine Folsom-O'Keefe
Audubon Connecticut
Michelle Frankel
Audubon Greenwich
Ron Frisbee
Cornell Cooperative Extension of Columbia & Greene Counties
Ted Gilman
Audubon Greenwich
Brian Hall
Harvard Forest
Tony Hiss
Author, Lecturer
Helene Hochholzer
CT Dept. of Energy
& Environmental Protection
Sven Hoeger
Creative Habitat Corporation
Karl Honkonen
US Forest Service – Northeast Area State and Private Forestry Program
Maria Janowiak
US Forest Service – Northern Institute of Applied Climate Science
Ted Kazlowski
Westchester County
Emma Kravet
Yale School of Forestry and Environmental Studies
Thomas Lewis
Trillium Invasive Species Management, LLC
Connie Mannes
Kent Land Trust
Maraleen Manos-Jones
American Museum of Natural History
Pete Muroski
Native Landscapes, Inc.
Jim Nordgren
JN Land Trust Services
Jay Rasku
Mount Grace Land Conservation Trust
Ravi Singh
Center for Non-Profit Strategies
Emily Stephan
SUNY College of Environmental Science and Forestry
Chris Swanston
US Forest Service – Northern Institute of Applied Climate Science
David Tobias
New York City Department of Environmental Protection
Mary Tyrrell
Yale School of Forestry and Environmental Studies
Tyler Van Fleet
Watershed Agricultural Council
Oscar Velez-Juarbe
USDA – Natural Resources Conservation Service
Marilyn Wyman
Cornell Cooperative Extension of Columbia & Greene Counties